After a busy first half of January, calm and normalcy has been restored in California politics, and the Tweets of our California Influencers Index reflect that. This installment covers the Twitter activity of more than 300 California political insiders over a ten-day window from Jan 24-Feb. 2. The Tweets have been digested and analyzed using software from San Francisco-based Zignal Labs.
Here's what California political hacks, flacks and others were buzzing about from Jan 24- Feb. 2.
In all, there were more than 28,000 Twitter mentions of our illustrious panel during the 10-day window — an average of more than 100 per hour.

This annotated chart shows the three heaviest Tweet days, and the stories that moved the needle. The highest spike came when Gov. Jerry Brown's San Francisco appearance with Housing and Urban Development Secretary Julian Castro to announce new clean-energy funding.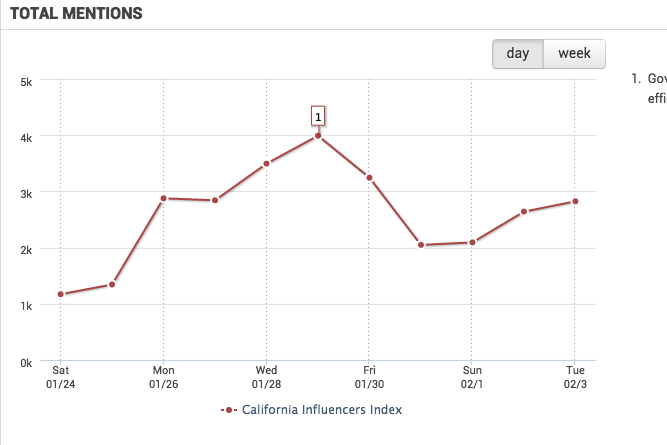 While the Super Bowl did not move the needle much among our political insiders, a Super Bowl-related Tweet from a member of Congress second-guessing the Seahawks' final play call was the most popular of the last couple of weeks. Other popular topics included Brown's energy announement from White House adviser John Podesta, the New Yorker on the global wealth gap, Brown on the drought, and some urban planning suggestions courtesy of San Francisco's Lisa McIntire.
Here's the most popular tweets from the second half of January either from, or mentioning, Twitter handles from the Index.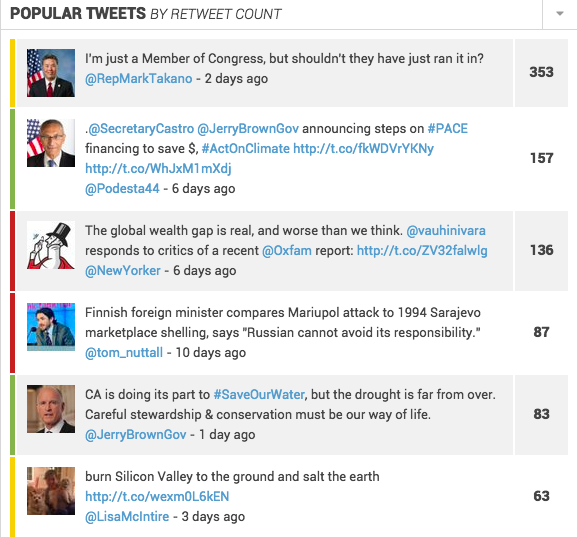 The Chronicle's Carla Marinucci wins the most prolific Tweeter award for the period, with 175 Tweets during the 10-day window. LAT's  Chris Megerian was next with 149 mentions followed closely by John Myers with 144 — all average more than 14 Tweets per day.
Among lawmakers, Democratic Assemblywoman Lorena Gonzalez tweeted 128 times, with Speaker Toni Atknis a distant second at 69 total Tweets.
As far as what was being circulated, items from the Sacramento Bee were mentioned among our elite Twitterati 1,030 times, followed by the Los Angeles Times with 788 shares and the San Francisco Chronicle with 314 shares.
In celebrity political news, MC Hammer makes his first appearance on our index, caught in our social media crosshairs when he mentioned some pro-immigrant comments made by Los Angeles Mayor Eric Garcetti. Other celebs weighing in included Morgan Fairchild, who Tweeted stories from the New York Times and Los Angeles Times on GOP tax hikers, and Oakland Raiders defensive lineman Justin Tuck, who Tweeted about his appearance with Lt. Gov. Gavin Newsom at an event on behalf of the Sonima Foundation.
About the California Influencers Index: Every week, the Grizzly Bear Project checks in with the California Influencers Index, digesting the Tweets from more than 300 California political insiders. Powered by software from Zignal Labs, the list, which includes members of the media, elected officials and other state political Tweeters, gives us a sense of what California politicos were talking about, and who among them had the widest reach.
(Visited 277 times, 1 visits today)